This is a Sponsored post written by me on behalf of
Sam's Club
. All opinions are 100% mine.
I love the holiday season. I have such fond memories of family and food! After all, the Holiday Season is about spending time with loved ones and enjoying the flavors of the season, isn't it?!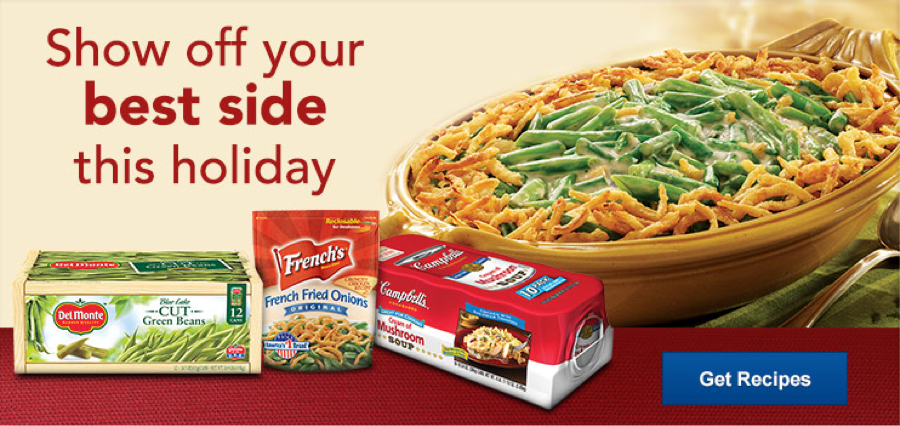 If you go looking for holiday recipes in books or online, you'll find a wide variety of dishes to choose from, but there's one staple that's been a must-have for years. It's a dish everyone expects and loves: the green bean casserole. You know Thanksgiving and Christmas dinner just isn't the same without it! It was always a staple on our holiday table. I love the creaminess of the casserole and the crispy onion topping. Whenever we had leftovers the next day, my brother and I always fought over who would get the last bit of the green bean casserole - good thing I was the oldest and age has it's privileges! ;)
Green Bean Casserole is such a simple dish: cream of mushroom soup, green beans and fried onions combined with your favorite seasonings, but it's a flavor that no holiday menu should be without.
And, when the holiday meal is over, there's more to those ingredients than just the casserole. Buy your basics at Sam's Club, then use what you have left over from your original recipe to create other delicious dishes that will last beyond the holiday.
Check out Sam's Club to get the Classic Green Bean
Casserole
for a small or large group, along with other delicious dishes inspired by those three basic recipes. This site can be so helpful in boosting up your Holiday recipe library with only a few basic ingredients to get started. While the Classic Green Bean Casserole is great, you can also find unique twists on the classic dish - like a recipe for
Brown Sugar Bacon Green Beans
.
What's your favorite dish during the holidays?