This post brought to you by American Frozen Foods Institute and the Frozen Food Roundtable. All opinions are 100% mine.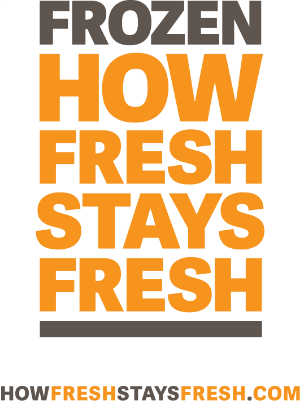 As the grocery shopper, meal planner and head chef at Casa de la Love Bakes Good Cakes (HA!), I try to be very aware of what my family eats so we can be healthy and happy. Although I often buy fresh produce in season, I am also a huge fan of frozen food since it locks in the flavor and nutrients of the foods my family loves. I love the variety, convenience and that I can enjoy many products "out of season" thanks to the frozen foods aisle! When you think about it, there really isn't much difference between fresh vs frozen.
From bags of frozen veggies to portion controlled meals - and even desserts - today's families don't need to sacrifice health to have a quick meal with quality ingredients! Did you know, the coldest aisles in the grocery store have the widest variety of great-tasting options?!
Freezing naturally pauses inspired recipes made with fresh, quality ingredients and suspends them there until the moment you're ready to enjoy them, locking in freshness, flavor and nutrients. Frozen. How Fresh Stays Fresh.
I don't know about you, but I always enjoy a glimpse into other people's kitchens! Here is a look at how my family incorporates frozen foods into our life:
Most of you know, I am not a breakfast eater. However, I do like to keep things on hand - like Toaster Strudels, Eggo Waffles or Jimmy Dean Breakfast Sandwiches - for those times when I do want something to start my morning, but I don't have a lot of time! It's not always easy to convince 5 kids to get up and eat breakfast at the same time! Ya know what I'm saying? My kids are especially fond of the Toaster Strudels because they can make them all by themselves and they love putting the little frosting packets on - usually in a smiley face design! :)
I love keeping a few Lean Cuisines, Lean Pockets or Smart Ones in the freezer for lunch because they offer a variety of delicious dishes that don't require a lot of time to prepare. Running a house, raising five kids, homeschooling and blogging means sometimes I need easy! Easy and delicious! :)
My freezer is always stocked with different varieties of frozen vegetables. Truthfully, frozen vegetables are probably my favorite thing in the frozen foods aisles! They are easy, convenient and taste just like fresh! They are a staple in my menu planning and to me, it's amazing how much farther I can stretch a meal with just a bag of vegetables! Buying frozen vegetables is definitely a budget saver for me - especially when I buy things out of season! On this particular night, we had cheese quesadillas .... oh, and did I mention that I had dinner on the table in 10 minutes?! #lifesaver This is one of my "I need something quick for dinner meals!" ;)
And who could forget the dessert section - definitely not me! :) Since I am the only person in my family who loves Key Lime Pie, finding things like these singles boxes is perfect! By picking up this box, I am not tempted to eat an entire pie, but I can satisfy my craving for 2 nights!! Woot woot!
Frozen foods make calorie counting a breeze! With clear serving sizes and complete nutritional information, cooking the perfectly portioned meal couldn't be simpler!

Frozen foods fit every family's lifestyle without compromising taste or nutrition.

Frozen foods offer a wide variety of easy-to-prep options - perfect for any palate and lifestyle.

Foods that are frozen taste good because the food is good! They always start with fresh, quality ingredients - and they are frozen to lock in flavor and nutrients!
What are some of your favorite things in the frozen foods section?
Don't forget to share and comment ♥
Copyright © Love Bakes Good Cakes 2012-2013 All Rights Reserved